When it comes to remodeling a kitchen there seems to be a common denominator among homeowners – most want an open concept kitchen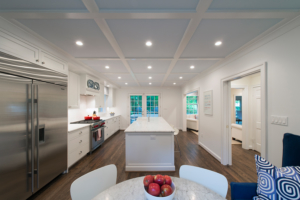 Many older homes built in Montgomery County and NW Washington, DC were built with small kitchens. Decades ago, home floor plans included a separate dining room, living room, and kitchen. The spaces were defined by walls or doorways and were disconnected from each other.
Open Kitchen Layout
Homeowners today want to open the spaces between the kitchen and family room areas. With a few exceptions, homeowners also want to eliminate their formal dining rooms when remodeling. In general, open plans are highly desired when remodeling with the kitchen space serving as the hub of all activity.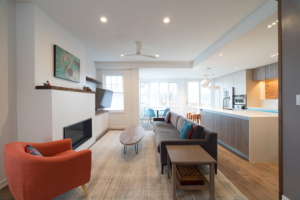 The open plan kitchen is the space where family and friends can gather. The avid cook can prepare a meal while still being part of a larger group gathered around the kitchen and family room areas. Cooking is no longer a one-person activity. You can welcome guests and family members to join you in preparing a meal or appetizers in an open kitchen.
Having a kitchen space for more than one cook is high on many wish lists. This means that space in the kitchen has to be found so that two people don't continually bump into each other. Often, this space isn't usually inside the confines of a work triangle and a good kitchen designer can help you identify the best layout for your needs.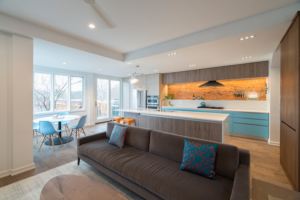 This open plan evolution of kitchen design is underpinned by a change in lifestyle. The attraction of this style of living is the luxurious feeling of open, clear, and light space.
Removing Walls to Create an Open Kitchen
Today, most homeowners don't want partition walls around the kitchen. Kitchens are part of open living areas that include a place for casual eating and a family room. Often, there will be a home entertainment center focusing on a big-screen TV. Formal dining rooms have also become a thing of the past; if used at all, it's only for special events.
Kitchen Islands  
Open plan kitchens; with their adjacent family rooms, great rooms, or casual living spaces are often anchored by a kitchen island. Islands are very important to the functionality of a kitchen:
Countertop Space – Kitchen islands add useful countertop space to the kitchen and provide an almost automatic location for a second sink, or cooktop closer to a sink.
Storage Space – Kitchen islands add storage space, cut down the walking distances between work centers, and establish traffic patterns that direct people easily through the kitchen and out of the cook's way.
Room for Everyone – Sometimes a kitchen designer can create an island that functions as a big table, providing room to eat or appetizers.
Room Dividers – Kitchen islands are also natural room dividers. In open plans, they are shared elements between rooms, with specialized storage on both sides. They are also a shared design element.
An Open Plan Kitchen is the Hub of the Home
Kitchens are expanding and becoming the welcoming focal point of family life and a family-oriented lifestyle. What has evolved is the notion of the kitchen as the hub of the home.
Let us help you create an open plan kitchen!
If you're thinking about remodeling your kitchen, give the kitchen experts at j. allen smith design-build a call. As an experienced design/build firm, we can design and build the perfect kitchen for your home.
Call us at 301-810-5247
In addition to kitchen remodels, we can help with other remodeling projects such as whole house remodels, bathrooms, and home additions
https://jasdesign-build.com/wp-content/uploads/2020/01/DSC2065a-scaled.jpg
1709
2560
joaquin
https://jasdesign-build.com/wp-content/uploads/2018/06/main-logo.png
joaquin
2020-01-04 12:12:14
2020-01-09 07:52:23
Open Concept Kitchens