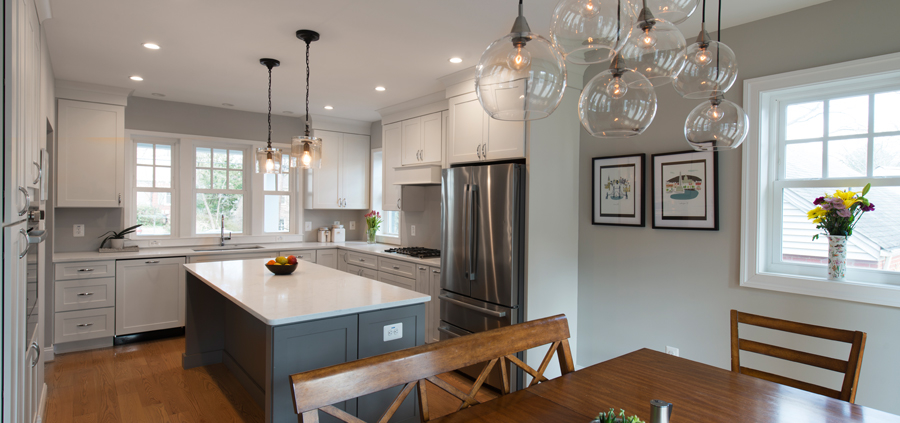 Kitchen Island or Kitchen Peninsula?
When you ask homeowners throughout Montgomery county their preference regarding having a kitchen island or peninsula, most say they prefer an island. It isn't surprising, there are a number of benefits for having an island in your new kitchen:
Kitchen islands provide more space for food preparation
They open floor areas to move around (including accommodating multiple cooks) and entertaining guests.
Kitchen islands may also offer opportunities to place additional appliances, prep sinks, and storage.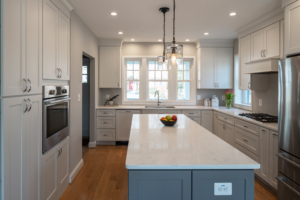 Kitchen islands are generally thought of as more functional than a peninsula.
Despite the island preference, there are instances when a peninsula may be preferable. In the DC area, many kitchens are too small for an island, so a peninsula may be the best design solution when remodeling (keep in mind, that if you really want an island, a good kitchen designer can often still create a small island into a floorplan when remodeling or renovating your kitchen).
Kitchen designers say there are two deciding factors when choosing between a kitchen island or peninsula, or both:
Kitchen Lifestyle Uses Matter 
The stage of life you're in is a very important factor when considering a kitchen island or a peninsula. By thinking about your family's lifestyle, the decision becomes easier to make.
Are there still children growing up in the home who may need to use the island or peninsula for school projects or homework? If so, a peninsula may be the better option. A well-designed peninsula can allow children to do homework but remain on the opposite side of where cooking or prep work may be taking place. This design ensures your newly remodeled kitchen serves a dual functioning purpose of a homework area and working kitchen.
On the other hand, if you're an empty nester, a new kitchen island layout may work better for you. Entertaining guests can be more enjoyable because everyone can be in the kitchen for the evening, enjoying each other's company and at the end of the night everyone goes home — as opposed to children who will be in the kitchen the next day!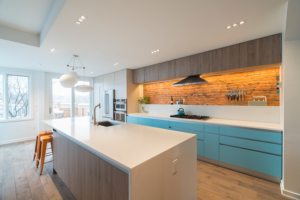 Kitchen Layout and Size Considerations
Another deciding factor between a kitchen island or peninsula when remodeling is the layout and size of the kitchen.
Because a peninsula is fixed to one wall, it is better suited in smaller kitchens where an island simply won't fit. Acting as a natural divider to separate the kitchen from eating space, the L-Shaped kitchens work exceptionally well with peninsulas as do open-plan layouts.
Peninsulas may be the most practical option for small kitchens — U-Shaped or L-Shaped.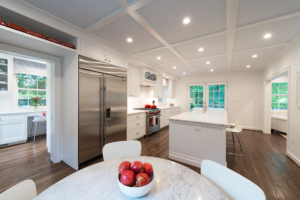 Kitchens with islands should have sufficient space for cupboard doors to be opened. The island itself should have at least 120 cm of clear space wrapping around it. For a kitchen island that will double as a table, be sure to factor in added space for chairs and for people to move around without being too cramped.
Let us help you create the perfect kitchen!
If you're thinking about remodeling your kitchen, give the kitchen experts at j. allen smith design-build a call. As an experienced design/build firm, we can design and build the perfect kitchen for your home.
Call us at 301-810-5247
In addition to kitchen remodels, we can help with other remodeling projects such as whole house remodels, bathrooms, and home additions
https://jasdesign-build.com/wp-content/uploads/2018/06/additions-gallery-image-18.jpg
600
900
joaquin
https://jasdesign-build.com/wp-content/uploads/2018/06/main-logo.png
joaquin
2020-09-11 17:18:48
2020-09-11 17:18:48
Is a Kitchen Island or Peninsula Better?